With the refreshing sea foam wafting across your face, conversations decorated with Arabic and French accents resonating in your ears, and the stunning and authentic landscape filling your sight, you find yourself in Casablanca. Morocco's largest city and the main seaside city, Casablanca is a popular tourist hub in North Africa. The city has a cosmopolitan ambiance, a diversified culinary scene, and unique architecture that draws inspiration from both Moorish and French Art Déco styles.
There are tons of reasons why thousands of tourists travel to Casablanca. Some come to relax on the scenic beaches or catch the desert landscape. Others come to sightsee the iconic Hassan II Mosque or Church of Notre Dame of Lourdes. While many turn to visit the city inspired by the classic film "Casablanca", others are drawn to it because it offers an authentic look into contemporary Moroccan life. Regardless of why you're visiting the White City, you need to make sure that you make the most of your trip. This complete travel guide offers a look at the best places to visit, how to get by, where to stay and more.
A Quick Guide to the Essentials
Best Time to Visit
Although you can visit Casablanca any time of the year, summer, mainly from June to August, is usually the ideal travel season. Though not as unbearably hot as it is in Morocco's interior cities, the weather is warm and dry. If you visit the city in the summer, you can also get to enjoy iconic cultural events such as the Festival de Casablanca.
Language
Standard Arabic and Tamazight (Berber) are the two official languages of Casablanca, as in all of Morocco. While you might find some individuals well-versed in English, French is the most used language there, aside from Arabic or Tamazight.
Currency
The official currency in Casablanca is the Moroccan dirham (MAD, د.م.). 
Common Phrases to Pick Up
Learning a few Arabic or French phrases can help you get around in Casablanca. Saying "hello" with "Al Salam Alaikum" (sall-em wall-a-come) is polite. "Shukran" means "thank you" (shoo-kran) and "Ma'-El Salama" means "goodbye" (ama sale lem-a). For French, "Bonjour" means "hello", "Merci" means "thank you", and "S'il vous plaît" means "please".
Getting Around
You can get around in Casablanca using the Casa Tramway, private taxis or petit taxis.
Things to do in Casablanca
You can never run out of things to do, places to visit and landmarks to sightsee when in Casablanca. Here are some unmissable activities to explore when visiting the White City.
See the Hassan II Mosque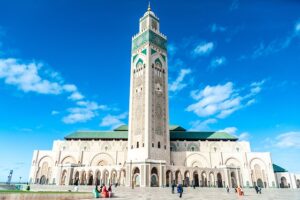 The Hassan II Mosque in Casablanca was constructed in 1993 by an order from King Hassan II and is situated on a platform with a breathtaking view of the Atlantic Ocean. This particular mosque is the second-biggest mosque in Africa and one of the few that allows non-Muslims to enter (during guided tours). It provides a unique and mesmerizing praying experience for the devotees on a glass floor. This creates the unusual sensation of praying straight over the sea. The site itself can hold up to 25,000 worshippers and is open to everybody to view the stunning architectural work.
Dine at Rick's Café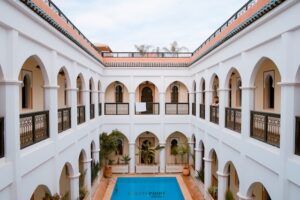 Rick's Café is a must-visit place in Casablanca for any traveler seeking a taste of the contemporary lifestyle. This piano bar was designed by Kathy Kriger and architect Bill Willis, and the structure was inspired from the iconic Humphrey Bogart film Casablanca. The cafe/resturant opened its doors in 2004. When you enter this pub, you could easily mistake it for a 1942 movie. The interior is embellished with palm trees, brass chandeliers, rustic table lamps, and a grand piano nestled into an archway. Not to mention the menu itself is filled with delectable options to try out. 
Take a Stroll Along The Corniche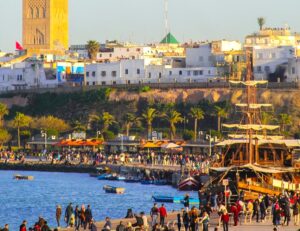 Located directly south in Casablanca is a seaside neighborhood known as the Corniche. There are lots of clubs, boutiques and cafes with ocean views in this area, which makes it a popular tourist spot. When visiting the Corniche, stroll along the boardwalk that borders the ocean for a relaxing afternoon activity. You can also take a horseback ride across the beach strip. After you've had your fill of the beach, stop by a cafes for a sandwich or coffee.
Explore the Morocco Mall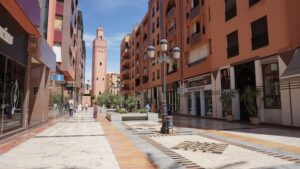 Africa's largest shopping center, Morocco Mall, is situated at the end of La Corniche. Morocco Mall is a contemporary hub with enough activities to keep everyone occupied for the entire day, whether you're traveling with your family or solo. Morocco Mall has a wide variety of name-brand stores, and boutiques as well as a large selection of eateries. There's also an inside aquarium with a tiny shark, an outdoor fountain display and an indoor ice skating facility. The mall is also home to an indoor souk (market) to give you a taste of classic Morocco.
Enjoy the Flavorful Moroccan Cuisine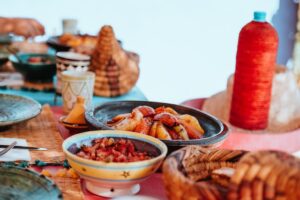 The culinary options in Casablanca are excellent. From lavish hotels to roadside stalls of food, you can never go wrong with eating out here in the city. Most lavish to moderate hotels and restaurants offer a mix of fusion and authentic Moroccan cuisines such as Couscous, Shakshuka (Berber Omelette), Taktouka, Zaalouk, Maakouda, Harira and Bissaraa. You can also find affordable dining options that boast lovely sea views, cozy seating places and stunning fit pits. Don't forget to also try out M'hanncha or snake cake, which is a delectable dessert filled with almond paste.
How Long Should a Trip to Casablanca be?
Many travelers set aside days to fully experience Casablanca, while many just save visiting it for a day trip. However, it takes at least a full day to see the highlights of Casablanca. To fully capture the travel, culture, culinary, and landscape experiences of the city, it's best to make your trip at least two to three days long.
For the best-guided travel experience, check out our Casablanca package itineraries if you have more than 24 hours to spend in Casablanca.
Where to Stay in Casablanca
The range of accommodation options in Casablanca matches the diversity of its dining scene, encompassing anything from five-star hotels to traditional Moroccan guesthouses. For those who prefer to remain in the city center, hotels near Casablanca's public squares, Mohammed V Square and Place des Nations Unies are recommended. With many trendy hotels and cafes, pubs and retail stores conveniently close by, the Gauthier district is a more popular option. You might also consider the El Hank Peninsula and La Corniche. These locations have easy access to Casablanca's beaches and views of the ocean.
A Few Tips to Save Some Bucks
The most essential technique to save money in Casablanca is to remember that prices are often negotiable. 

If you plan to use the Casa Tramway for transportation, look through the various passes and select the one that offers the best value (the cost and duration of your stay will determine this). 

Always choose to embark on a petit taxi with a functional meter if you plan to use it for transportation.

The least expensive mode of transportation for multiple-day trips in Casablanca is via grand taxis, which are shared minibosses.
Get the Full Travel Experience When Visiting Casablanca
Casablanca is Morocco's largest city and home to Africa's second-largest harbor. Though the Hassan II Mosque is the main draw for tourists coming to Casablanca, the city has much more to offer, regardless of whether you are interested in history, art or Morrocan cuisine.
For all travelers who wish to get a unique and diverse travel experience in North Africa, Casablanca is your destination to embark on next. Do you want to explore the city's unique beauty? All with pre-booked accommodations, guided tours, and the opportunity to skip the lines?
iLinkTurkey offers a diverse range of guided tour packages for destinations in Morocco. Head over to our packages and book one of our best-selling Casablanca packages now.